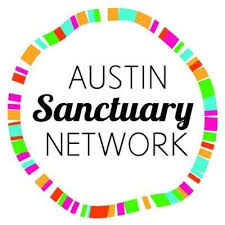 After living in sanctuary congregations for too many years, immigrants leaders are ensuring their cases are included in Democrats' promises for a humane immigration system.
For immediate release:
August 17, 2020
Contact:
Carmen Zuvieta, carmendezuvieta40@gmail.com, (512) 773-4508
Solveij Rosa Praxis, solveijp@gmail.com (619) 636-4551
(AUSTIN, Texas) – Democratic leaders voted to approve the Democratic Party Platform, and immigrant leaders in sanctuary are celebrating a major milestone in their fight for freedom. Hilda Ramirez and her son Ivan and Alirio Gamez, alongside other sanctuary leaders across the country inspired a critical section of the Democratic Party Platform that would defend immigrants with deportation orders like them.
Throughout the Trump administration, a national movement of immigrant leaders have organized community-based resistance to their deportations from the confines of sanctuary churches. Living in lockdown inside houses of worship, immigrant leaders courageously took sanctuary because they face death or separation from their family members if deported, and have little to no legal recourse for legal status within a broken immigration system. These sanctuary leaders represent immigrants with deportation orders across the country who have been failed by an unjust, inhumane immigration system that provides no relief in cases of humanitarian crises.
The Democratic Party finalized its Platform to include commitments to immigrant communities across the country in the section titled "Creating a 21st Century Immigration System." It was amended to include language that re-opens the use of prosecutorial discretion, an enforcement tool that historically was available for cases representing humanitarian crises to grant relief from deportation. Prosecutorial discretion is a unique and powerful tool for cases that have met the end of the road with little to no options in the broken system and only have discretion as a way out.
Due to the Trump-era attack on prosecutorial discretion, in which the Trump administration specifically directed ICE not to use discretion as part of its zero-tolerance agenda, immigrant leaders in sanctuary have suffered for years, trapped in sanctuary congregations to survive and stay with their families. An action of last-resort, advocates see sanctuary as a different type of detention found to cause the same mental and physical health consequences as solitary confinement. This victory represents a path to liberation and survival for immigrant leaders in sanctuary across the country who had no options for relief prior to the inclusion of this amendment. Immigrant leaders like Hilda Ivan and Alirio have fought for their survival throughout the Trump administration, from the confines of sanctuary in Austin churches. Alirio, who would be murdered if deported said, "I am so moved, that there are people [Democratic leaders] who want to fight to liberate us. It gives me so much more hope that I'll live." Reflecting on including this tool for their freedom making it into the Democratic Party Platform, Hilda said, "It's like you're in a long, dark tunnel, and far at the end you begin to see a little ray of light, and we're heading down that tunnel following that light."
Sanctuary leaders have been meeting with Democrats across the country who have become vocal advocates for the issue at the DNC. The statement in support of the amendment was endorsed by over 200 Democrats from all over the country, including National Delegates and approximately 25 elected officials, representing Democratic unity on this immigration issue. Sanctuary leaders look forward to continuing conversations with members of Congress and the Joe Biden – Kamala Harris campaign.
Now part of the "Creating a 21st Century Immigration System" section of the National Democratic Party Platform, the amendment reads: "We will reaffirm enforcement officials' ability to engage in the pre-Trump practice of prosecutorial discretion" opening a path toward freedom for many of the leaders in Sanctuary across the country. The amendment also promises protection for the sanctuary leaders and other immigrants involved in activism "from [ICE] retaliating against individuals for their political speech or activity, or because of their efforts to advocate for individual rights." They have shone a light on the failures of one of the most anti-immigrant administrations in history and have been targeted and threatened by ICE for their activism. One sanctuary leader, Samuel Oliver-Bruno, was taken from his family and deported at what immigration officials had promised would be a routine check-in. Many more have been threatened with fines of up to half a million dollars by ICE.
This amendment also gives Congressional Representatives new tools to support immigrant leaders, such as stays of removals and private bills. For years, sanctuary leaders have been fighting for these very tools to be used to grant relief for sanctuary leaders across the country. The cases of sanctuary leaders inspired this commitment to reaffirm prosecutorial discretion and related tools, and they represent thousands of similar cases that fall through the cracks of a broken system. All of these are clear cases for the use of prosecutorial discretion, given their deep community support and humanitarian stakes. They are people like Hilda and her son Ivan Ramirez, Alirio Gamez, Maria Chavalan Sut or Rosa Gutierrez, or Abbie Arevalo who will be killed if deported back to the respective Central American countries they fled. They are also like Carmela Apolonio Hernandez, Juana Tobar, Alex Garcia and Vicky Chavez who would be separated from their children. Immigrant leaders in sanctuary and their advocates are hopeful that prosecutorial discretion will be used for their cases to reaffirm the existence of discretion and set a new tone for the immigration system with a new administration. It would also signal a commitment to the broader immigrant community that has experienced the impacts of an inhumane, dysfunctional system and have not been included in comprehensive immigration reform in the past.