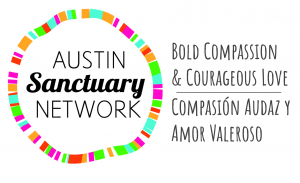 We have posted the following at Idealist:
Austin Sanctuary Network (ASN) seeks an Immigration Community Organizer in Austin, Texas to mobilize members and manage a campaign with local, state and national aspects to stop unjust deportations.
Who we are
Sanctuary is a place of safety where love and protection are manifest. ASN is a coalition of faith communities, immigrants, organizations, and other community members in and around Austin, Texas, that support immigrants fleeing violence or in danger of deportation by providing sanctuary and ultimately helping them gain their freedom. We confront violent actions with bold compassion and courageous love, standing up for people's rights, regardless of status. ASN stands in solidarity with undocumented immigrants who are being detained unjustly and denied asylum status, and we've stopped deportations six times.
The Immigration Community Organizer must:
work directly with immigrants in sanctuary while acting as a liaison to the broader sanctuary network to help them see their needs are met.
be highly ethical and work well with diverse individuals and communities.
lead a strategic campaign to mobilize constituencies at the grassroots level to create political change.
work at coalition-building by engaging with immigrants, faith-based congregations, and other community organizations about issues surrounding immigration justice.
collaborate actively with ASN leadership to motivate the community, allies and volunteers to execute and achieve the ASN mission and goals.
recognize immigrants in sanctuary are leading the efforts for their freedom
The Organizer Position
This is a one year position with a three-month trial and is potentially renewable. The position is full time and the salary range is $30,000 to $40,000 based on experience.
Ideal Experience in:
stopping deportations within the immigrant rights community.
base-building effectively with diverse constituencies.
analyzing power dynamics and building strength in communities.
educating community members about immigration issues, race, and power dynamics.
motivating and inspiring folks to take action with a strong background as a successful community organizer and campaigner with faith-based and other groups.
developing connections with lawyers, undocumented folks and the current sanctuary movement.
working with elected officials to pass humane immigration law.
The Organizer must have:
excellent speaking, writing and editing skills in both English and Spanish.
proficient administrative and technology skills, including Google Suite and social networking.
well-developed listening skills and an ability to engage with a broad range of faith-based and other community members in their places of worship and other spaces.
excellent critical thinking, organizational and time-management skills.
an ability to facilitate meetings and to educate folks about campaigns and non-violent civil disobedience.
excellent interpersonal skills including a sense of humor. Must be personable and able to build a strong rapport with individuals from many different backgrounds.
a strong work ethic, ability to work independently and willingness to take initiative.
a willingness to work irregular hours, including evening and weekend meetings.
the ability to manage one campaign with folks living in two separate houses of worship.
demonstrated an ability to think strategically and act decisively in rapidly changing situations.
the ability to develop strong relationships with folks in sanctuary, including an understanding of the mental health impact of isolation.
Applicants who do not have all the ideal experience will still be considered. If you think you can do the job well, please apply.
Applicants may apply directly to peggy@austinsanctuarynetwork.org